Columbia (SC) is the second-largest and the capital city of South Carolina. It is situated in Richmond county of South Carolina. As Columbia is located in the center region of the state, this city is the main focal point of transportation because of the population, approximately 136,632. If you want to explore more about this city or want to travel in this city, then you must have a Columbia Road Map and Highway Map. So, here on this page, we are adding some best interactive road and highway maps of Columbia. Please scroll down the page and have a look at these maps. And, if you are also looking for some South Carolina Road and Highway Maps then please click this link.
Columbia Road & Highway Map Collection:
1.Columbia Road Map: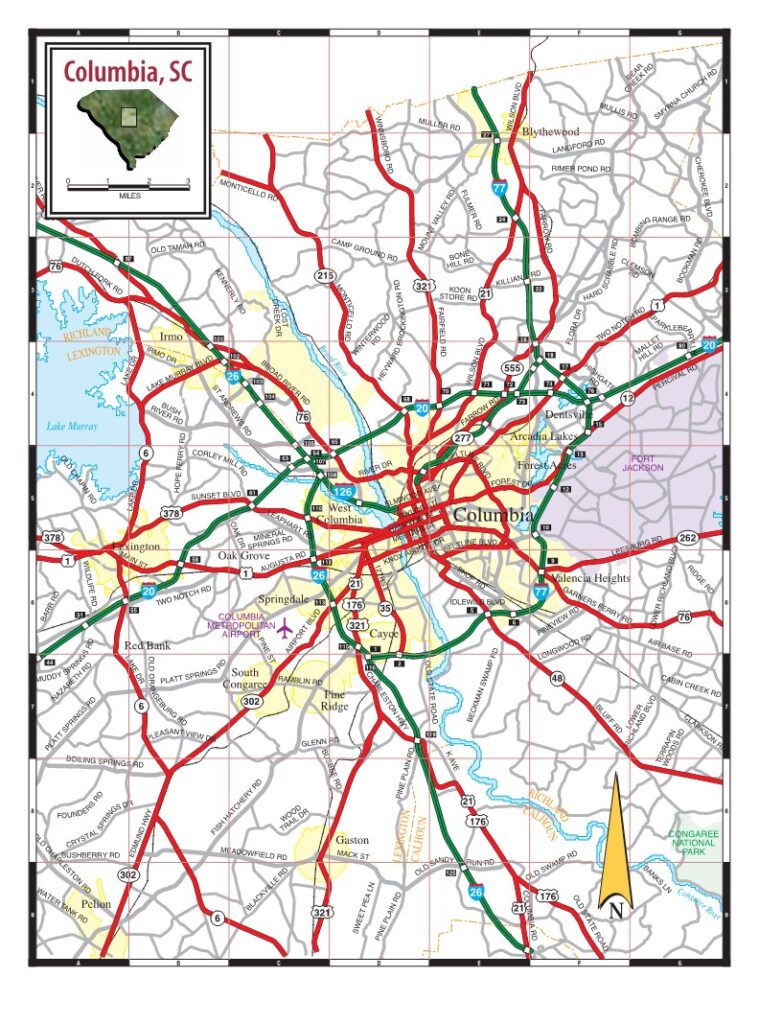 2. Columbia Street Road Map:
2. Columbia (SC) City Road Map:
As you saw, this was the collection of all the road and highway maps of Columbia (SC). There are three types of different maps that we have added in the above section of the page. These maps are very interactive and contain every single piece of information that you need. Below, we are describing every map. So, read the description before viewing or downloading any map from the above section.
When you will have a look at the first map, which is the "Columbia Road Map." There you will see all the city roads and their routes. You can easily navigate from one point to another in this city. So we can say that it is a complete and detailed road map of Columbia. As you can see on thi map, the thick green color line indicates the Interstate highways. Other state routes and U.S highways are also visible on this map, which can be easily identified because a unique number is mentioned.
The second and third maps are related to the street roads map. On this map, you will get to know all details of local street roads, major roads, and other information like rivers and lakes are also visible. So, view or download those maps for more information.
The Roads and Highways of this city are managed by its states government agency, the South Carolina Department of Transportation (SCDOT). This department is responsible for all activities, maintenance and management of roads. In this city, there are total four Interstate highways which are as follows, Interstate-26, Interstate-20, Interstate-77 and Interstate-126. Among all highways I-26 is the longest highwaythat is passing through Columbia (SC).
List of all Interstate Highways in Columbia:
| | | |
| --- | --- | --- |
| Number | Length (mi) | Length (km) |
| I-26 | 220.07 | 355.2 |
| I-20 | 141.51 | 227.74 |
| I-77 | 91.2 | 148.8 |
| I-126 | 3.687 | 5.92 |
List of all U.S Highways of this city:
U.S-1
U.S-26
U.S-76
U.S-176
U.S-321
U.S-378
List of all States Routes in Columbia (South Carolina):
S.C-12
S.C-16
S.C-48
S.C-215
S.C-262
S.C-277
S.C-555
S.C-760
S.C-768
These were some best road and highways maps that we have provided above. All the maps are available in PDF format and JPG (Image) format. You can easily download any map by clicking on the buttons that are under the preview image. And, these maps are available free for you.