As you know, maps are very important and helpful in travelling, study or any work purpose. So, if you are looking for some printable maps of New Hampshire state, you should stay on this page. Because on this page, we're adding some high-quality collections of New Hampshire maps with Towns and Cities. So, please scroll down the page and check all maps. And you should also check some other Road and Highways maps of New Hampshire.
Maps Collection of New Hampshire (NH) Cities and Towns:
1. New Hampshire Map with Cities and Towns:
2. Map of New Hampshire Cities and Towns:
3. Map of Northern NH Towns:
4. Map of Southern New Hampshire:
5. New Hampshire County Map: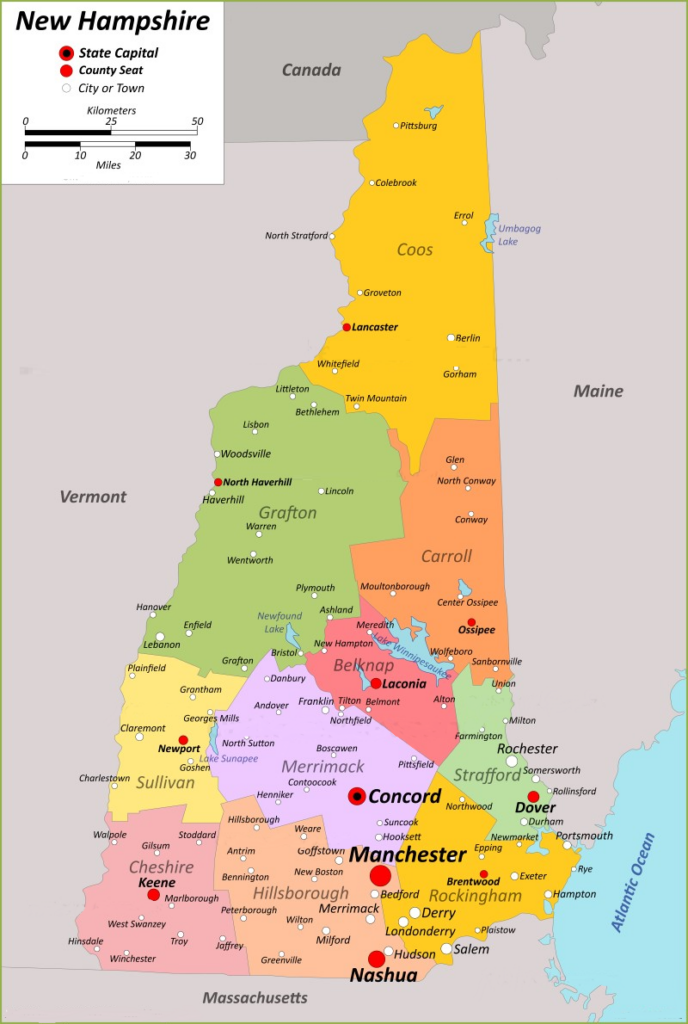 6. Map of New Hampshire:
This is the collection of maps of New Hampshire Cities and Towns that we have added above. We have added six different maps that contain some helpful information about all cities and towns of New Hampshire. Below, we are also adding some helpful information about each map. So, please read the full description before viewing or downloading any map.
The first map is related to the main City and Town map of New Hampshire, USA, and on this map, you can see all cities. You can easily spot any city on this map. This map also shows all counties. The second map is also a town and city map of this state. All major towns, rivers, lakes are visible, along with rods and national highways, as you can see on the map. A thick red line indicates all interstate highways, and a black line indicates the city roads of New Hampshire.
The third and fourth maps are specific region maps. The third one is related to Northern New Hampshire, and the fourth map is Southern New Hampshire. In these maps, you will also get to know all the details of the cities, their roads, and their routes. You can quickly identify any location with the help of these maps and can navigate anywhere. The fifth map is a detailed county map of New Hampshire. This map will show all counties with some major cities and county seats. The sixth and last map is a State map of New Hampshire. This map shows counties, some cities and mountain ranges, water bodies, and other places.
These were some best New Hampshire map with cities and towns that we have added above. All the maps are available in PDF format as well as in JPG (Image) format. You can easily download any map by clicking on the buttons under the preview image. And, these maps are available free for you.