Hawaii is an island state in the Western USA located in the Pacific Ocean. Hawaiian Island has five counties that the state government manages. If you are here to know more about Hawaii through its maps, you may check our collections of maps related to counties, cities and towns of Hawaii. Below, we have added a different kinds of maps. Please, scroll down the page and start with a Hawaii county map.
Hawaii (HI) County Maps Collection:
1. County Map of Hawaii: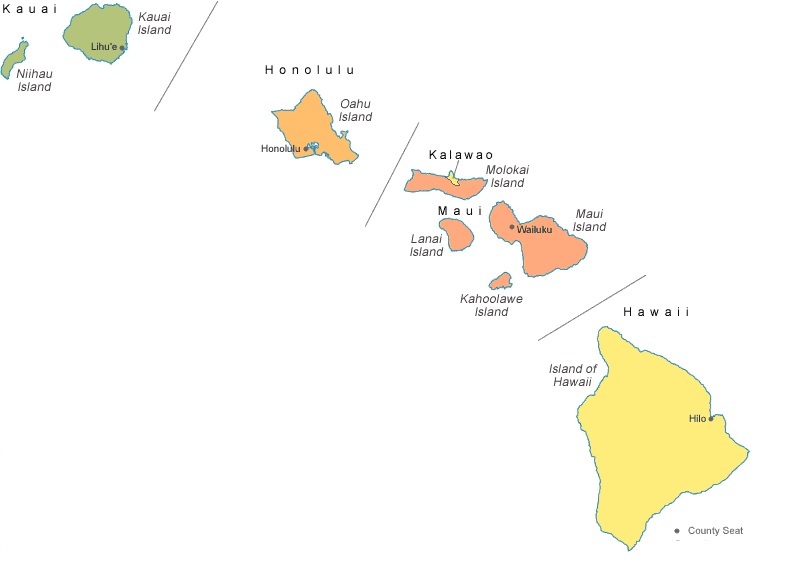 2. Hawaii County Map:
3. County Map of Hawaii with Cities:
4. Hawaii Map with Cities:
5. Hawaiian Island Map:
Above, we have added five maps (the first three maps related to counties of Hawaii, and the last two maps belong to state, cities and towns maps of the Hawaiian state). So, check all these maps and get the correct map. And for more detailed information about the Counties, you can check the table we provide below.
List of all Counties that are in the Hawaiian (Big Island):
In this table, you will get helpful information such as Name of County, Year of Establishment, approx. Population, average area, and their county seat of all counties. And, if you are looking for the maps of any county, please check the first three maps.
| | | | | |
| --- | --- | --- | --- | --- |
| County | County Seat | Eastablished In. | Total Population | Area |
| Hawaii County | Hilo | 1905 | 202906 | 4,028 sq mi |
| Honolulu County | Honolulu | 1905 | 1000890 | 597 sq mi |
| Kauai County | Lihue | 1905 | 73454 | 622 sq mi |
| Maui County | Wailuku | 1905 | 164221 | 1,120 sq mi |
On the first map, you will see the name of all counties and their location on the Hawaii Map. The second map is a simple county map that shows some prominent cities in all counties. Now, the third map is a detailed County map of Hawaii. This map shows counties and all major cities, county seats and towns. So, you can get this map if you have any work related to the Counties of this state.
The fourth map is a full map of Hawaiians Cities and Towns. This is a complete and printable map showing all cities, roads, state highways, and routes. With the help of this map, you can quickly move anywhere in any city in this state. You can also check some printable Roads and Highway maps of Hawaii, if you plan to travel to this city. 
The last map is a simple Big Island Hawaii Map. This map only shows all counties, cities, mountains, hills, rivers and lakes. So, these were some printable maps related to Hawaii USA Map of counties and towns that we have added above. These high-quality maps are available in PDF and JPG formats. You can easily download any map by clicking on the buttons under the preview image. All these maps are free to download.