Rhode Island is located in the New England Region of the country's Northeastern region. This state has a total of five counties. Along with Hawaii, Rhode Island is second another state with fewer counties. This state does not have any local government. Their primary government or state government manages all counties. You may learn more about the counties and cities of Rhode Island through its county maps. We are adding some printable maps on this page, so scroll down the page and start with the Rhode Island County Map. 
Rhode Island (RI) County Maps Collection:
1. County Map of Rhode Island:
2. Rhode Island County Map:
3. RI County Map: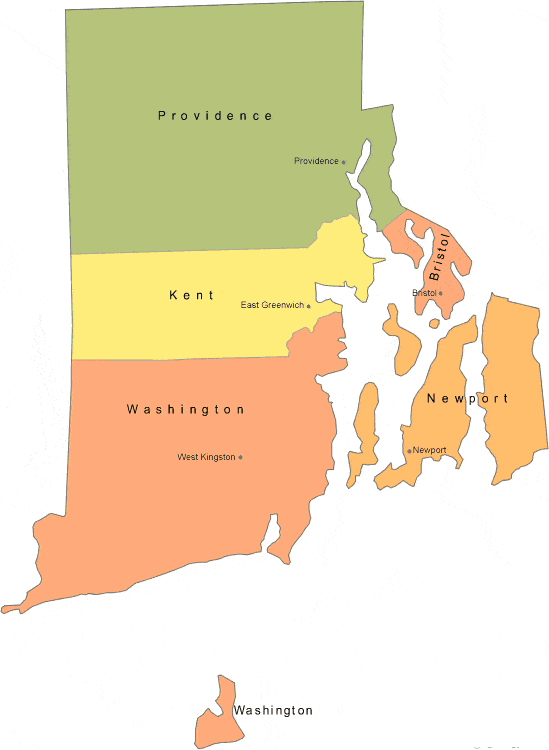 4. Rhode Island County Map with Cities:
5. Rhode Island Map with Towns and Cities:
6. Rhode Island State Map:
We have added above this collection of printable maps of Rhode Island County. We have added six different maps that contain useful information about all counties of this state. Below, we are adding some brief information about each map. So, please read the full description before viewing or saving any map on your device. We are also including a table that shows some useful information about counties. Please check this table.
List of all Counties in Rhode Island State
This is a list of all counties with some additional information like name of county name, year of established in, populations, the county seat, and total area.
| | | | | |
| --- | --- | --- | --- | --- |
| County | County Town | Established | Population | Area |
| Bristol County | Bristol | 1747 | 50818 | 24 sq mi |
| Kent County | East Greenwich | 1750 | 170715 | 168 sq mi |
| Newport County | Newport | 1703 | 85264 | 102 sq mi |
| Providence County | Providence | 1703 | 658221 | 409 sq mi |
| Washington County | South Kingstown | 1729 | 130592 | 329 sq mi |
The first map is the main county map of Rhode Island state, which shows all counties. And the next map is a detailed RI county map that shows its county seat or county town of this state. The third map is a blank or outlined county map. The fourth map shows all counties with towns and cities. So, check this map if you are looking for a detailed county map of Rhode Island, USA
The fifth map is a map of Rhode Island with cities that shows all cities, roads, highways, rivers, and lakes. And the last map is a map state map of Rhode Island. It is a full state map. So, these were some high-quality and printable maps that we have added above. These large HD maps are available in PDF and JPG (Image) formats. You can easily download any map by clicking on the buttons under the preview image. All these maps are free to download.