The mountain ranges of Alaska helps to improve the beauty of its state. The highest peak of North America is the only alp which provides the best beauty in the Scenic view of Alaska. It is characterized by some natural activities like earthquakes, glaciers, and some volcanic activities. How would you know the location of this beautiful alp of Alaska? You may need some maps to know the location of Alaska mountain ranges.
Collection of Alaska Mountain Range Maps:
1. Alaska Mountain Map:
2. Alaska Black and White Mountain Range Map: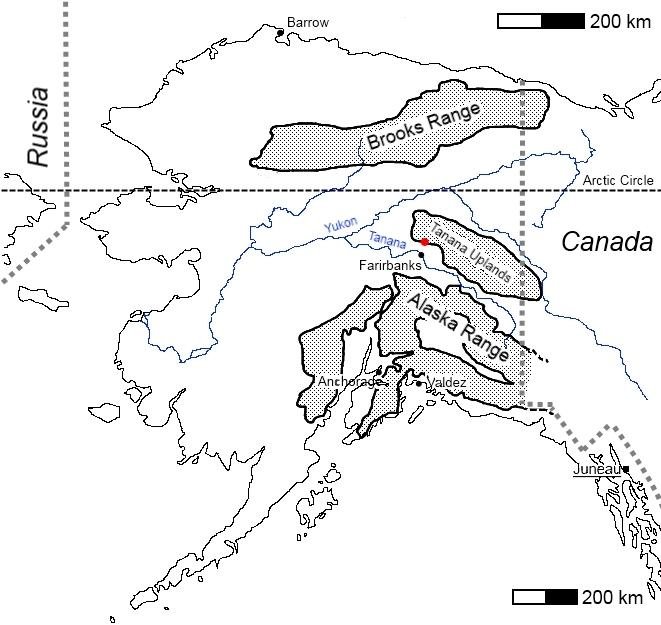 3. Brooks Range Alaska Map:
4. Alaska on World Map:
The Brooks mountain range and Arctic foothills are the most northerly spread mountain ranges of Alaska. Both mountain ranges extend the rocky mountain in an east-west arc from the border with Canada.
The Brooks mountain range is situated just south of the Arctic Foothills. It is the highest mountain range of the Arctic circle. The average height of this mountain range in the west is 3000-4000 feet to 5000-6000 feet in the east with a high point of 9060 feet in mount Isto.
The mountain of central Alaska is lower than the height of north and south mountain ranges. They are almost drained not full but partially by two river systems, the Yukon and the Kuskokwim.
There are so many mountain ranges in the eastern highlands which have an elevation of about 4000-5000 feet and few ridges rising some 1000-2000 feet. Many alps exceed 6000 feet of elevation in that sector. There is no glacier is present in this region. That means the permafrost is discontinuous. It is occurring at the higher elevations. We have added all types of Alaska range maps so that you can easily understand Alaska mountain ranges.
These maps are easily downloadable. You have to just click on the PDF button and you'll be able to download these maps in the next tab of your browser. If you have any suggestion or you want any other type of maps, please tell us by commenting down here.