Idaho has more than 2000 lakes. It has an important and negligible topographical area due to the geographical and geological features created by the rivers. Several major river systems cross Idaho, but two large rivers flow entirely. So, if you are here to learn more about water lands in the state of Idaho, then you should check Idaho lakes maps. Here on this page, we are adding some useful lakes and river maps. Please scroll down the page and have a look at these amazing maps. 
Idaho Lakes Map Collection:
1. Idaho Lakes Map:
2. Map of Idaho Lakes:
3. Printable Map of Idaho Lakes:
4. Priest Lake, Idaho Map:
5. Spirit Lake, Idaho Map: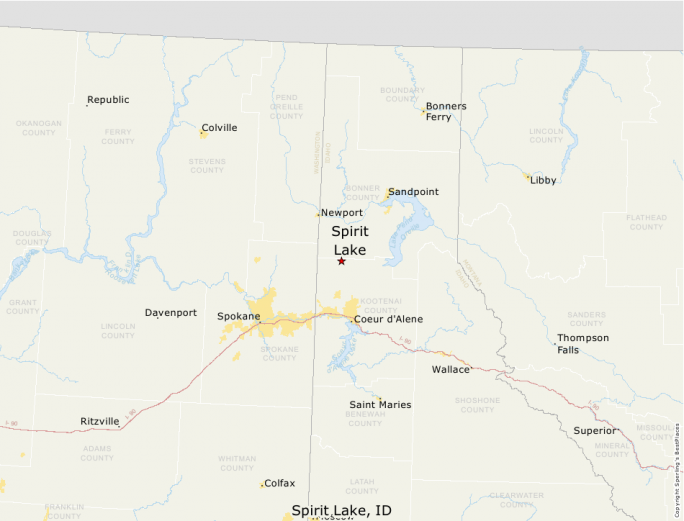 6. Hayden Lake, Idaho Map:
7. North Idaho Lakes Map:
8. Cascade Lake, Idaho Map:
This is the collection of Idaho lakes maps that we have added above. These maps contain all the details about Idaho lakes. Below we are also describing each and every map. So, please read the full description before viewing or downloading any map from the above.
List of the largest lakes of Idaho State:
In this table, you will know the details of some famous and largest lakes (by area). This table shows some information about their volume area, name and the region where these lakes are located and flowing. Please also read the description column for more details. You can also check the related map that we have added above.
Lake Name
Volume in acre-feet
Lake Description
Lake Pend Oreille
43939940
Also known as Albeni Falls Dam
This lake is the biggest and deepest lake in Idaho. It is also the 28th largest lake by area in the USA. The total length of this lake is
Forty-three miles (69 km), and the depth is 1,150 feet (351 m).
Coeur d'Alene Lake
2269996
This lake is also known as Lake Coeur d'Alene. It is a natural Dam controlled lake that is located in Northern Idaho. This lake is spanned 40 km of area. This is 4.5 km wide and 220 ft (67 m) deep.
Lake Cascade
693100
Also known as Cascade Reservoir
Lake Cascade is the fourth largest lake in Idaho, which is located in the Boise National Forest of Western United States. This lake has an area of 47 square miles.
Bear Lake
650000
Bear Lake is located on the Idaho – Utah border in the Western United States. This lake is very famous and known for its natural freshwater. And this lake is also a popular tourist destination because this lake has unique turquoise-blue color. The length of this lake is 18.3 mi(29.5 km).
Lucky Peak Lake
264400
Lucy Peak Lake is an artificial lake that is built to store natural water and control floods. This lake is located on the Boise River in the U.S. state of Idaho. This lake has a total surface area of about 2,820 acres (11.4 Km2 )
Priest Lake
143000
Priest Lake is located in the northernmost region of the Idaho Panhandle. This lake is also known as the "crown jewel" of Idaho. Priest Lake is 19 miles long and over 300 feet deep. This lake is famous for adventurous activities like fishing and boating.
Henrys Lake
90420
Henrys Lake is the smallest lake that is located in eastern Idaho. This lake is spread approximately 6500 acres. Henrys Lake is a natural lake formed by glaciers. It is also the tributary of the Snake River. This lake has an average depth of 12 feet. This lake is a world-famous and very popular tourist destination because you can do camping and adventurous activities besides this lake.
Let's start with the first map, and this map shows all lakes and rivers located in the state of Idaho. You can check this HD map for detailed information. The second map covers all the Idaho lakes and their information. With the help of this map, you can easily navigate any lake.
The next map is about Priest Lake. This very famous lake in the state of Idaho is best for a vacation destination and boating, fishing, camping, snowmobile, hunting, cross-country ski. So, if you are planning for a vacation, you must check this map of priest lake.
Above were some lakes maps of Idoha state. These high-quality maps are available in both PDF and JPG format. Save or Download any map by clicking on the buttons that are under the preview image of each map. And if you are also searching for some Idoha River Maps, please click on this link and check all these maps.