Chicago Metro rail network is managed and controlled by the Chicago Transit Authority (CTA). It is the fourth-largest rapid transit system in the USA. The total length of this metro network is 102.8 miles (165.4 km). If you want to explore more about the Chicago (L) Metro System Map, you should check Chicago metro maps. Here on this page, we are adding the best high-quality printable metro maps. Please scroll down the page and have a look at these maps.
Chicago Metro Map Collection:
1. Chicago Metro Map :
2. Chicago Metro Area Map :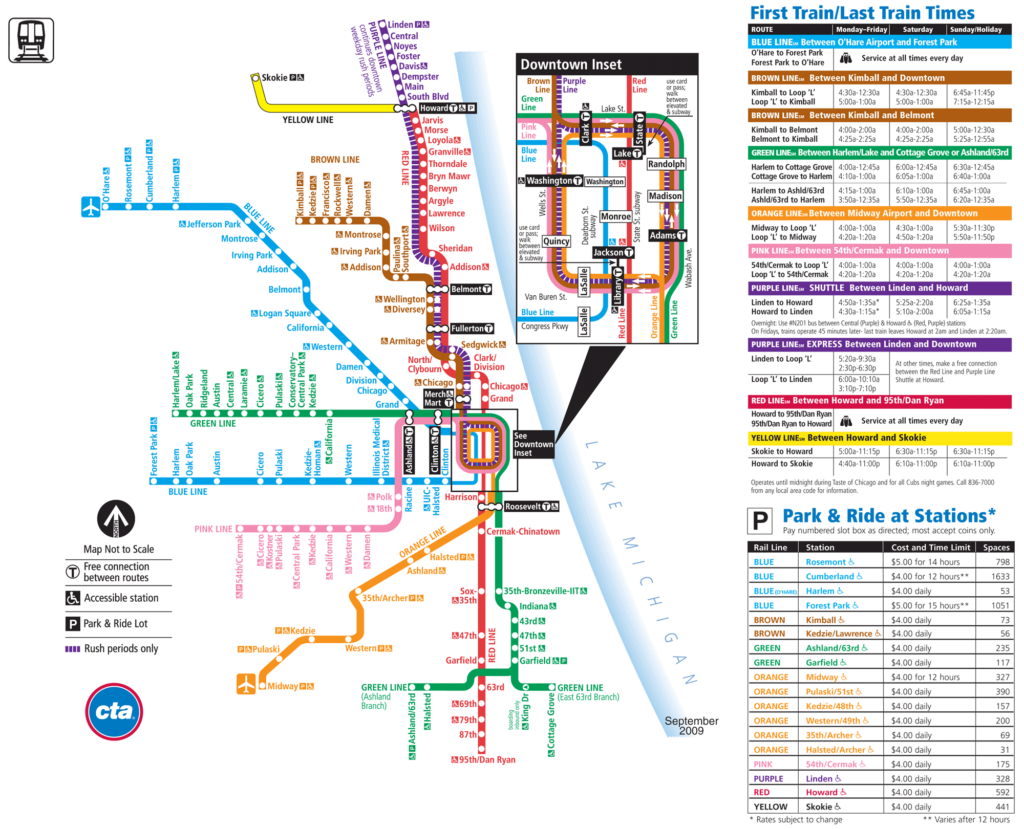 Above were some best HD maps of the Chicago metro area. These maps are very interactive and show the actual path and related metro stations of the whole city. Please check the maps for detailed information because with the help of these maps you can easily navigate any station and any route also. Below we are describing each map, so please read the description before downloading or viewing any map from the collection.
The first map is related to the Metro map of Chicago city. This map shows details of all metro lines, their station, parking areas, station exchange route, the direction of travel, transfer station. You can check the map for more details. And, the second map is a detailed map of the Chicago Metro network. In this map, you will get to know details of all metro lines, stations and their routes. Timings of trains from some major stations are also mentioned on this map.
There are eight metro lines network in Chicago City. Below you can check the list of different metro lines of Chicago Metro.
Blue Line
Brown Line
Green Line
Orange Line
Pink Line
Purple Line
Red Line
Yellow Line
All the above-added maps are related to the Chicago metro train map. All these maps are available in both PDF and JPG format. You can also print these maps because all maps are HD quality. You can easily download any map from the collection by clicking the PDF or JPG buttons that are under the preview image of the map. And, if you are also looking for some Road and Highway Maps of Chicago (Illinois), then you can click on this link.