Mississippi State's Road and Highway System is managed by the Mississippi Department of Transportation (MDOT). This department is responsible for controlling and maintaining all roads, interstate highways, street roads, and other major highways. If you want to explore more about the roads and highways of this state, you must check these Mississippi Road Map and Highway Map we have here in this article. Let's start with road map.
Mississippi Road & Highway Map Collection:
1. Mississippi Road Map: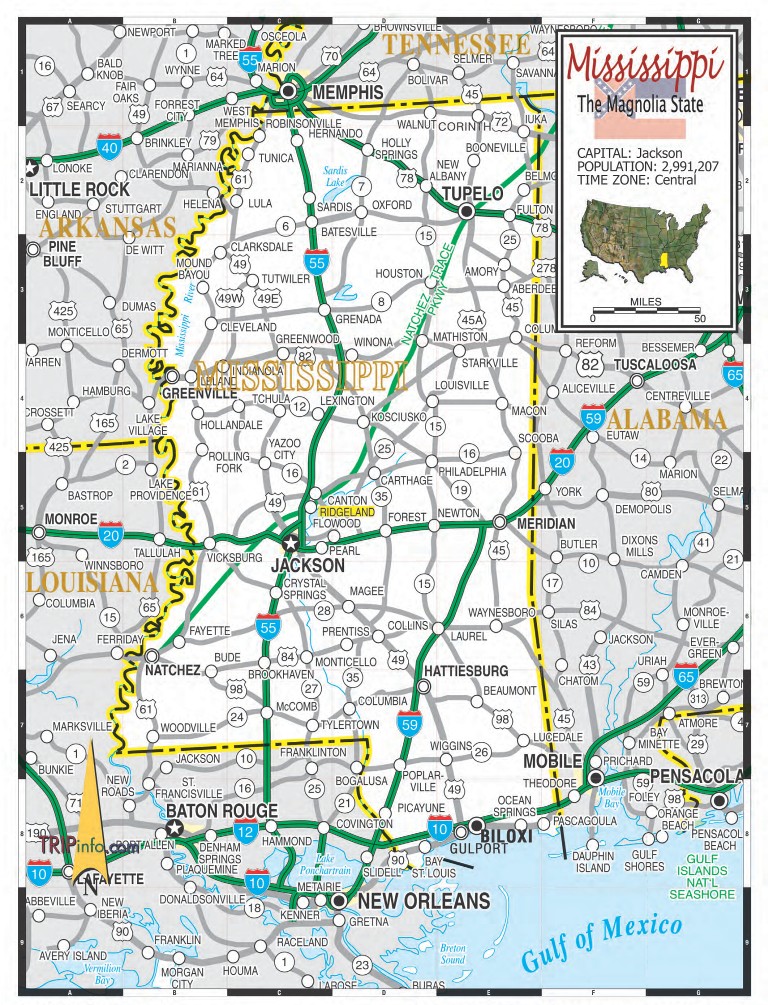 2. Mississippi Highway Map:
The first map, titled "Mississippi Road Map," contains details of roads and their routes connecting other cities of this state. You can easily identify any direction and navigate anywhere inside any city.
The second map titled "Mississippi Highway Map" contains information about interstate highways, state routes, and US routes of the Mississippi State. A thick red line indicates the major highways, and these highways also have a unique number so you can easily identify any highway.
Mississippi is a beautiful state which is situated in the southeastern region of the United States. There are a total of 09 interstate highways in the Mississippi State. The Longest interstate highway is I-55, and the shortest interstate highway is I-110. The total length of these highways is about 11,164.467 miles (17,967.468 km).
In this state, there are only 14 US highways. Interstate highways are identified by I-[any number] (i stands for Interstate), US highways can be identified as US-[any number], and the state highways are identified by MS-[any number], here MS is an abbreviation for State Name. And in the map, three-digit map number indicates the shortest state highway route.
So, these were some important and useful road and highways maps that we have added above. All the maps are available in PDF format as well as in Image format. You can easily download any map by clicking on the buttons under the preview image of a particular map.