Indiana is the 38th largest state in the United States, located in the midwestern United States. Its capital is Indianapolis which is one of the largest cities in the state. Indiana covers an area of ​​more than 94,000 sq km. There are lots of lakes and rivers in Indiana. It's challenging to get the exact number of lakes here because some are natural, and some are man-made. Here, in this article, we have a good collection of Indiana Lakes Map. We have also given the names of few famous lakes of Indiana along with their maps. Rivers are also visible in few maps.
Collection of Indiana Lakes Map:
1. Indiana Rivers & Lakes Map:
2. Indiana Lakes & Rivers Map: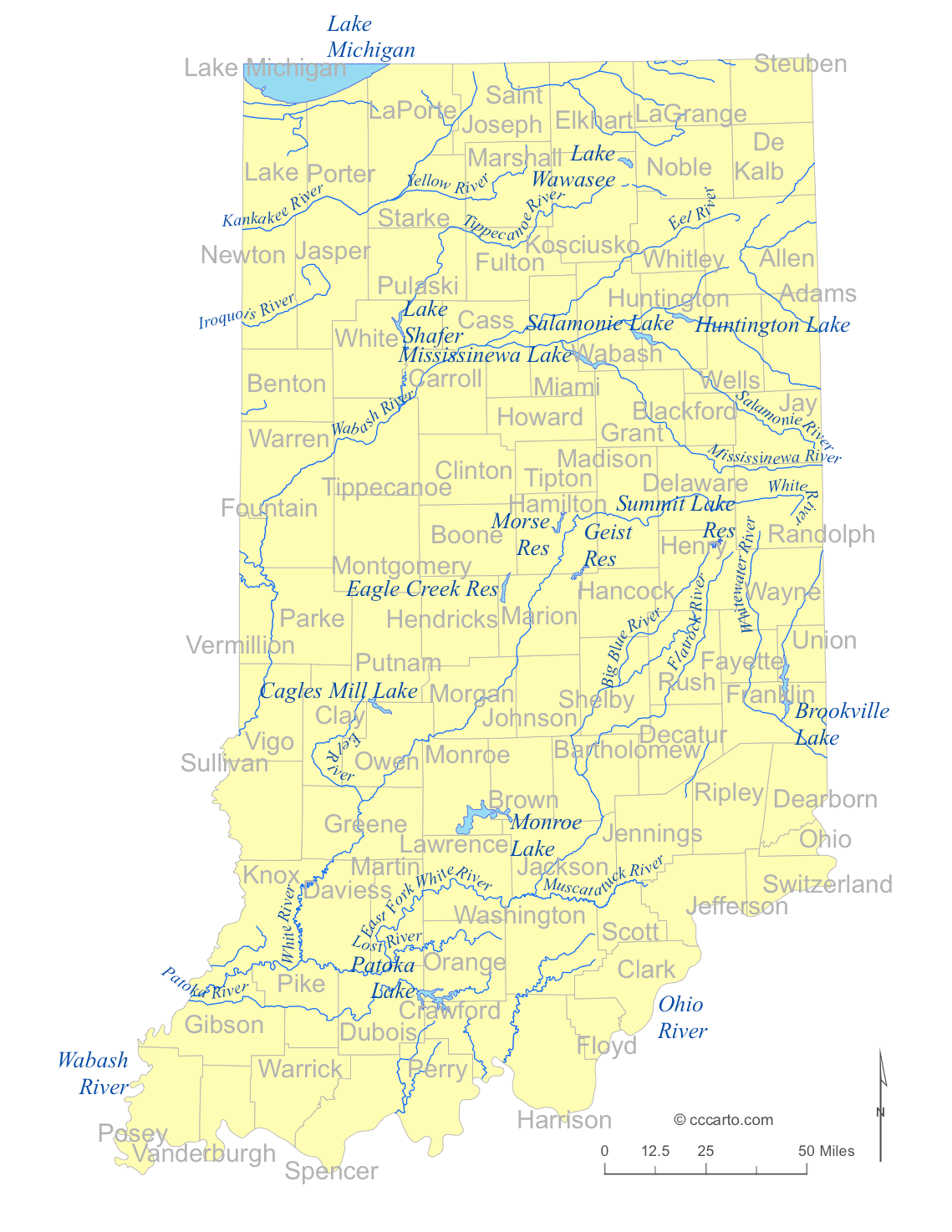 3. Indiana Lakes Map:
4. Brookville Lake Map:
5. Bass Lake, In Topographic Map :
6. Map of Monroe Lake, Indiana:
7. Monroe Lake Fishing Map:
8. Lake James, Indiana Map:
So, these are some famous lakes in Indiana. As you can see, the first map with the title "Indiana Rivers & Lakes Map" contains all the information about all the lakes and rivers in the state. Names of all famous lakes are mentioned on the map along with few rivers. So, if you live in Indiana, you may identify most of the lakes on the map.
The first three maps are about lakes and rivers. These three maps contain the names of famous lakes and rivers in Indiana. You can download any of these if you are looking for information on Lakes in Indiana.
The fourth map shows you the Brookville Lake Map. Brookville Lake is a man-made lake that is constructed by the US Army to control floods. It covers 5,260 acres and has 61 miles of shoreline.
The fifth map is a topographical map of Bass Lake. In this map, the shape of the lake and depth are shown by contour lines. This map provides you the valuable information about the nature of the terrain.
The sixth map is the Map of Monroe Lake. The construction of this lake started in 1960 and finished in 1965. The cost of the construction was $16.5 million. It is located about 10 miles southeast of Bloomington, Indiana, United States.
The seventh map is the Fishing Map of Monroe Lake. The lake covers 10,750 acres. Anglers can expect to catch Bluegill, Carp, White Crappie, Channel Catfish, Hybrid Striped Bass, and Largemouth Bass.
The eighth and final map is the map of Lake James, located in the northeast corner of Indiana. This lake is famous for boating and fishing. It is also the fourth-largest natural lake in Indiana. The quality of its water is great.
You can download or save any of these maps by clicking on PDF or JPG button. You can also see the Rivers Map of Indiana.