The population census is carried out every ten years. The last census was done by the United States in the year 2010. The population of Alaska state was officially counted at 710,231 people. This huge population shows a 13.3% growth from the census in 2000. If you are looking for the Alaska population map, then you are in the best place.
Collection of Alaska Population Density Maps:
1. Alaska Population Density Map: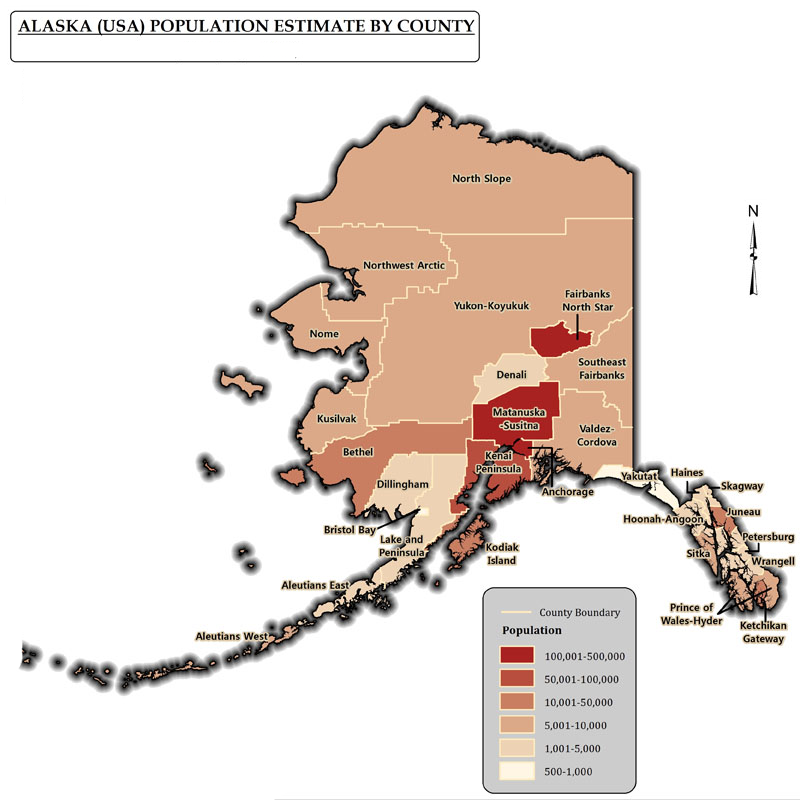 2. Mean Population Map of Alaska: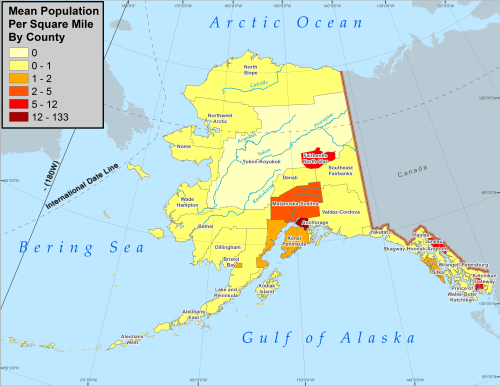 As you can see the two images of population density maps are shown. These maps show the population density of Alaska state. The first one shows the estimated population of Alaska state in numbers. The second map shows the mean population per square mile by county.
The current population of Alaska ranks the state 48th in the country in total population with a wide surface areas of 665384 square miles. It is the largest state in the whole United States. Alaska may be the larger state than the other state of United States, but there are not many big cities in the Alaska county. There are only 29 cities and towns having the population of more than 1000 people. The largest city of the Alaska is Anchorage, had the approximate population of 298,695 in 2015. These numbers ranks this city 82nd largest city in the USA.
According to the most recent ACS, the racial composition of Alaska was:
White: 64.84%
Native American: 14.44%
Two or more races: 8.46%
Asian: 6.30%
Black or African American: 3.27%
Other race: 1.49%
Native Hawaiian or Pacific Islander: 1.20%
The population of Alaska grew at 3.97% from the census of 2010 to 2015. This data makes it the 24th fastest growing state during that period of time.
The maps we have shown above are absolutely free for you. You just have to follow some steps to download it in your devices. You can download a PDF of a particular map by clicking on the PDF button as shown in a specific category of a map. After clicking on it, a new tab will be open in your browser. Now, you can see a down arrow button in the right corner or your PDF page. Just click on it and your map will be downloaded in your smart device.