Maps are beneficial when you want to gather more information about a County or City. Beacuse with the help of these maps, we can easily locate any county, city, or town. So, if you're looking for a New Hampshire county map, you are on the right page. Because here we are adding some printable Maps of New Hampshire. You have to scroll down the page and check all these counties' maps. We also have some other useful maps. So, you must also check the Road and Highways Maps of New Hampshire, and these maps would be helpful during your journey. So, get all these NH map for free on your device.
New Hampshire (NH) County Maps Collection:
1. County Map of New Hampshire:
2. Map of NH Towns and Counties: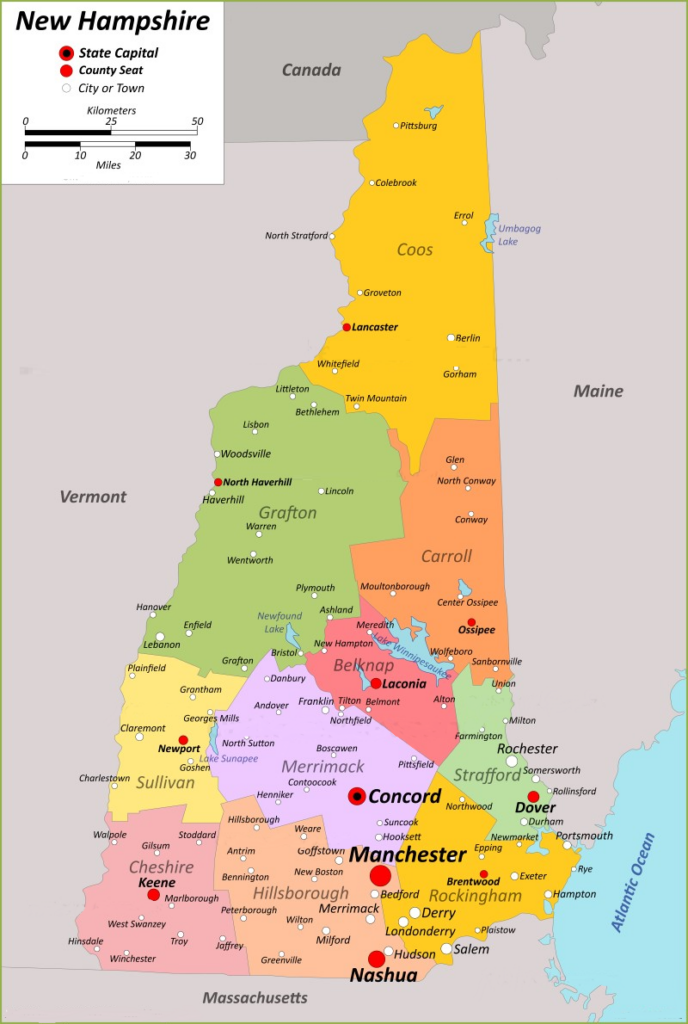 3. New Hampshire Blank County Map:
4. New Hampshire Map:
5. Map of New Hampshire with Cities and Towns:
Above we have added five different maps. So check all these maps and get the correct map you are looking for. And for more detailed information about the Counties, you check the table we are providing below.
List of all Counties that are in the New Hampshire:
In this table, you will get useful information such as Name of County, Year of Establishment, approx population, average area, and their county seat of all counties. And, if you are looking for the maps and location of any county, please check the first three maps.
| | | | | |
| --- | --- | --- | --- | --- |
| County Name | Established In | Population | Area | County Seat |
| Carroll County | 1840 | 50107 | 934 sq mi | Ossipee |
| Cheshire County | 1769 | 76458 | 708 sq mi | Keene |
| Coös County | 1803 | 31268 | 1,801 sq mi | Lancaster |
| Grafton County | 1769 | 91118 | 1,714 sq mi | North Haverhill |
| Hillsborough County | 1769 | 422937 | 876 sq mi | Manchester |
| Merrimack County | 1823 | 153808 | 934 sq mi | Concord |
| Rockingham County | 1769 | 314176 | 695 sq mi | Brentwood |
| Strafford County | 1769 | 130889 | 369 sq mi | Dover |
| Sullivan County | 1827 | 43063 | 537 sq mi | Newport |
The first map shows only all counties and their county seats. As you know, a county seat is a capital city of a county or an administrative center. So, if you are looking for such types of information, then this map will help you. And this is a simple county map of New Hampshire. The next is a counties map with cities and towns. This map shows all counties with some cities and towns of New Hampshire. The third map is a simple blank and outline county map of New Hampshire. This map shows the only structure of the county and state with a boundary. So, check the first two maps if you are looking for a detailed version of the county map.
The last two maps are related to the main state and city map of New Hampshire. In the fourth map, you will locate any city and town quickly. And you can also navigate anywhere in any city of this state with the help of this map because this map also shows all street roads, national and interstate highways. The last map is an overview map of this state. In these maps, all counties are visible, with some major cities, rivers, lakes, and mountains. 
So, these were some printable collections of NH county map with cities and towns. You can quickly get these high-quality maps on your device by clicking on the preview button under the map. We have provided each map in two types of format, in PDF and JPG (Image) format. So, you can save or view any map for free.