Atlanta is the most popular and capital city of Georgia (USA). It is also the 38th largest city in the United States of America. There are lots of places to discover in this city. If you're planning to visit this city, then it is a good choice, But before starting your journey, you must have an Atlanta road map. Here on this page, we have added some best road and highway maps of Atlanta. Please scroll down the page and have a look at these maps.
Atlanta Road and Highway Map Collection:
1. Atlanta Road Map:
2. Atlanta Interstate Map:
3. Detailed Road Map of Atlanta: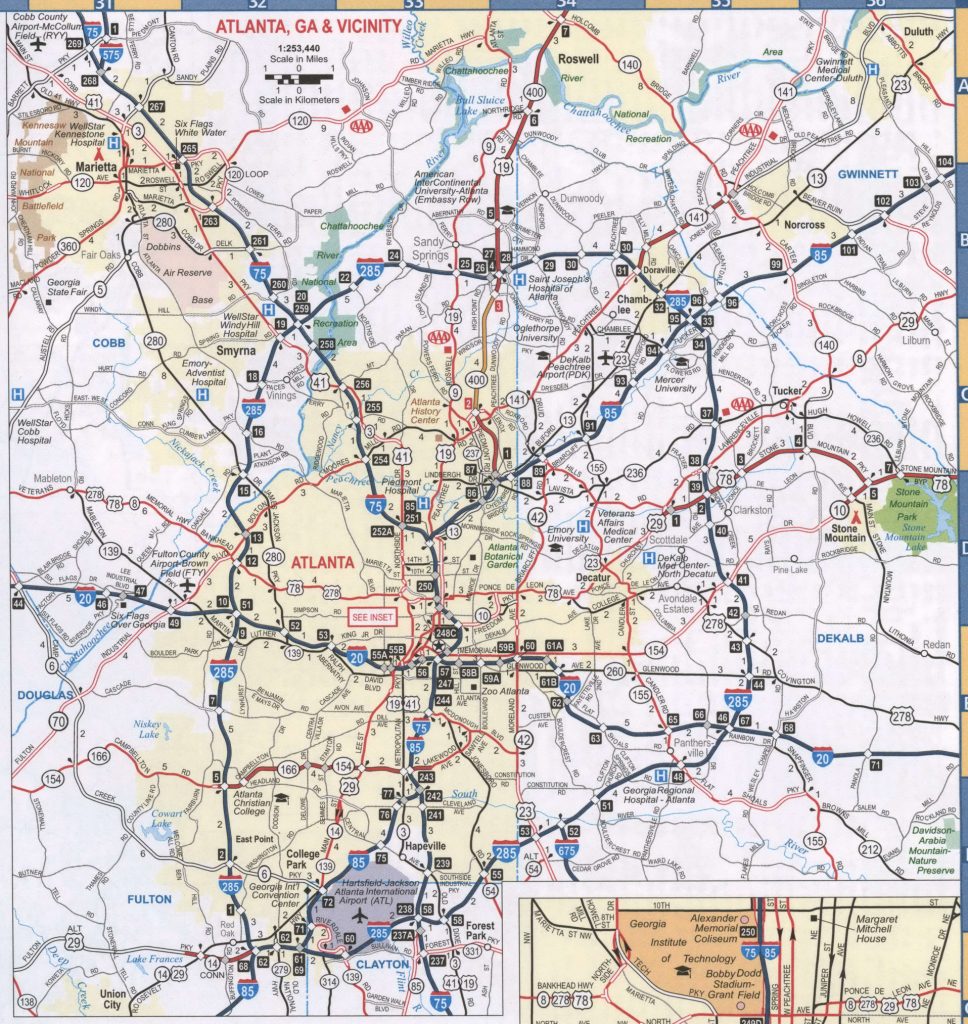 These were some best Atlanta Road and Highway Maps that we have added above. Below we are describing each map. So, view or download each map before downloading.
Main Interstate Highways in Atlanta:
| | | |
| --- | --- | --- |
| Number | Length (mi) | Length (km) |
| Interstate 485 | 5.9 mi | 9.5 km |
| Interstate 285 | 63.98 mi | 102.97 km |
| Interstate 85 | 179.9 mi | 289.5 km |
| Interstate 75 | 355.11 mi | 571.49 km |
| Interstate 20 | 202.61 mi | 326.07 km |
Main U.S Route in Atlanta:
U.S. Route 19 Business (Atlanta, Georgia)
U.S. Route 19 (Main)
U.S. Route 29
U.S. Route 41 Alternate (Atlanta–Marietta, Georgia)
U.S. Route 41 Business (Atlanta, Georgia)
U.S. Route 41 Bypass (Atlanta–Marietta, Georgia)
U.S. Route 41 (Main)
U.S. Route 78
U.S. Route 278
Roads and Highways of Atlanta is managed by a Government agency of its state which is The Georgia Department of Transportation (GDOT). The headquarter of GDOT is in Atlanta City. This department approximately manages the 18000 miles of Roads and Highways of the state.
The first map is related to Atlanta Road Map. In this map, you can see that the green lines indicate the Interstate Highways, and the red lines indicate the U.S. routes or state highways. The second map is about all primary and auxiliary interstate highways of Atlanta City. This is a complete and detailed map of Atlanta's Interstate Highways. Three main interstate highways of Atlanta are I-20, I-75 and I-85. Check the Atlanta highway map for more information.
The third map is a detailed road map of Atlanta city which shows all famous places, landmarks, tourist destinations, major streets, and local roads. You can easily find any location and navigate anywhere in this city. All these maps are available in both PDF and JPG format. Save or download these HD maps in your device by clicking on the preview buttons under the preview image of map.